Dormez-Vous?
I couldn't sleep last night. It was awful. The back pain and stomach ailments are trying to take over again.
I knit a few rows on the Silk Garden Beanie and pulled more foreign matter out if it. It made me like the yarn less to have these bits of strange material. The little pieces are scratchy and splinterlike/sliverlike. I also am not a fan of the variation of thickness in the yarn. Since I was tired, and trying to unwind to be able to sleep, I'm was knitting in a room that was pretty dark, so I coulnd't see the beautiful colors of the yarn.
I finally put on EZ's Knitting Workshop. Something about her voice lulls me to sleep if I watch it late at night. Sure enough, I think I watched about 20 minutes before I finally fell asleep. Please not the tape does not put me to sleep if I watch it during the day.
I woke after only a few hours to more pain in my back and stomach pain. At least I woke, rather than not.
When I picked up the hat, I saw the beautiful colors that I couldn't see last night. No wonder people keep knitting with Silk Garden. The colors are so beautiful.
Hope you can see them here: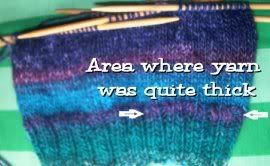 I'm hoping to finish the hat either today or tomorrow. It shouldn't be too much longer as the pattern only calls for one skein of yarn and the skein is almost gone.

I've been neglecting the rug but I'm going to try to get some more rows knit this week. I may take it to work with me to knit on my lunch break. I'm hoping to finish the rug by the end of the month, which is not a tall order.
I start my new part-time job tomorrow. I know almost everyone in the office but I doubt any of them know I knit. There's a nice conference room with a table where I can knit on my break and the lunch room has a table as well.
I've still got a little over 2 wks before the Klaralund-Along starts. I still haven't made a real decision as to what yarn I'm using. The colors of the hat are making me really want to use Silk Garden but the itty bitty twiggy matter that scratches me is making me hesitant.
Now, I'm concentrating on feeling better so I can have a good day at work tomorrow.
Wish me luck!