Rowan 36 esta aqui
I finally got it! My Rowan 36 has arrived!
My invoice has a personal note on it saying that they ran out of the Tucker table runner but should be receiving them in a couple of weeks. That works for me.
Also in the packet they sent was an announcement that you could buy Kaffe Fassett Greeting Cards. The announcement is in b/w, so you can't see all the lovely colors.
Inside Rowan 36, on page 71, there's an advertiement for a book called The Knitted Teddy. It looks so cute., I'm going to have to do a little research on this book. There's also an article on page 12 about Marion Faole with pictures of two darling tailored jackets on page 16. The jackets are from her book, Marion Foale's Knitwear. I may have to keep an eye out for this as well.
Hopefully I'll get a chance to really look through the whole book this weekend to see which patterns to add to my "Must Knit" list.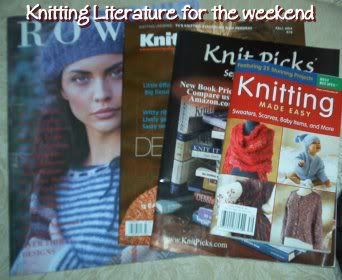 In an unexpected knitting find, I stumbled across a little booklet in the magazine section of Barnes and Noble. It was only $3.99 and has 25 projects in it. The projects are diverse, and for $3.99, it was worth it just for the Faroese shawl pattern in it.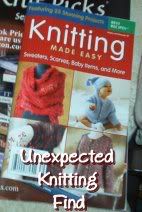 For the small project I started, it has a diagonal pattern to it. Hope you can see the pattern.
One of the points looks like it's no quite aligned. So, as little as this project is, it will still need blocking when I'm done.
On an interesting note, it may take a little longer than anticipated to knit this project. I'm still getting used to the thinner yarn after knitting with the two strands of worsted for the rug. The size 2 needles remind me of shish kabob skewers. I'm surprised they seem so small as I've knit with size 3's before. I think it's a good idea to switch every now and then any way. A little variety is a good thing.
In any case, I'm just happy to have a small, portable project.
Actually, I'd really prefer to start knitting my socks. I just still need to get some non-wool sock yarn. Hoping to take care of that very thing this weekend. With a little luck, I'll make it to
Ewe Knit Kits
or one of the other shops in VA Beach.
As a person who has very few yarn shop choices close to her, this is an exciting endeavor. Hope I get there.