Rug Progress Report

I've made a little more Progress on the rug for the Rug Knit-Along. I thought I'd post a progress picture and try out this new "Hello" feature for pictures on Blogger. This picture is quite dark as I took it early this morning trying to use natural lighting. Unfortunately, it's dark and rainy today due to a tropical storm that is drawing near.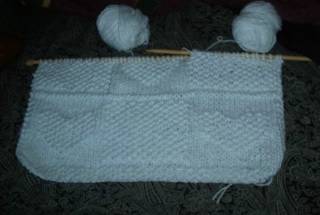 Rug Progress 08/02/04

As you can see, the pattern has two hearts and one square in the first section, then in the section section, where I'm knitting now, there are two squares but only one heart. I'm almost done with the second section which puts me at about 35% finished.
The thing I love about this project, other than the fact that it's really soft, is there is no seaming. I also love looking at the little heart pattern as I follow the chart.
I'm becoming less and less aprehensive to try new things (in knitting and crocheting) so this project has been wonderful for me.
Here is the picture, cropped, and lightened for better viewing.