Weekend Plans and Recent Arrivals
I'm still going! I'm so very excited. Planning to meet
Christina
P at some point during the day. I'm taking Klaralund along on the trip with me to knit the sleeves.
My Knit-Out andCrochet bag arrived as well.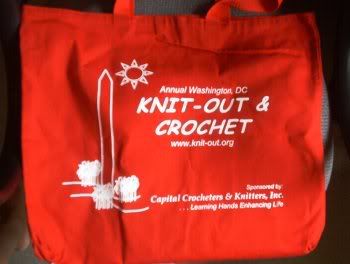 In the package was a brochure from last year's event and an informational page for this year's gathering.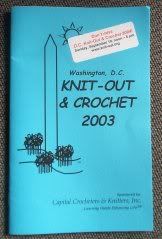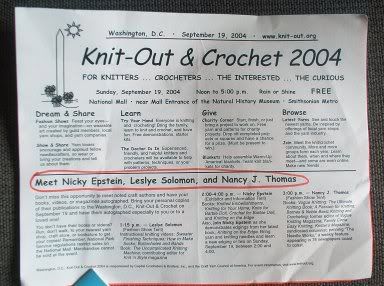 I'm guessing they included last year's brochure to give you a better idea of what this year's Knit-Out & Crochet Too will be like. Here's a close up of the little sticker on the brochure.
I'm still hoping to hit Knit Happens on Saturday, just to be able to see the store and all the pretty yarns. My local shop has great yarn but variety is the spice of life. I'm looking for a little Jalapeño.
My Rowan New Member Kit has finally arrived. (They sent me an e-mail saying they had run out last month.) It's for a rug made with Linen Drape yarn. Since I love the feel of Linen Drape, I'm still debating whether this yarn will actually become a rug. It could easliy be used for something else. The funny thing is, these colors match my living room quite well.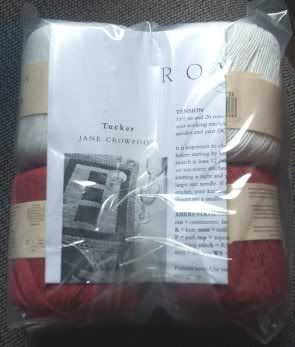 I've been wanting to try something from the Rowan Denim yarn. I had not bought any of the Denim yarn yet because I have other projects to finish and was still a little concerned about the bleeding of the dye. Good fortune and blessings came my way, however, when I wonderful lady acquired this yarn and did not want it. She said I could have the yarn if I would send her the shipping cost. I sent her the shipping cost, plus a little something for her because she was just so sweet! I'm just amazed at the kindness of others sometimes. Guess who's on my Christmas list!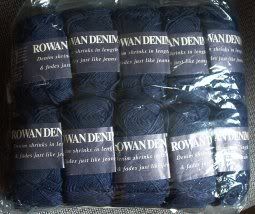 I've also been wanting the Hand Knits for the Home book as well as Knits from the Heart. Michael's had marked these books down to $5.00 each. Since they retailed for more than 5 times that amount, I decided to treat myself.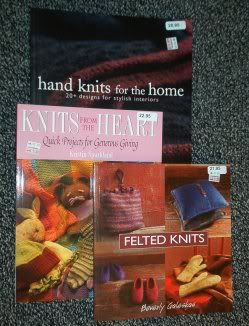 I still have not started my DNA Scarf. I've just not had time. Hopefully, the pre-school thing will continue to get better and I'll get the chance to start it soon.
Speaking of pre-school, my son is doing well, according to the teachers. He still doesn't want to go but does well, participates, and still says he's having fun. Life will be so much lovelier when he gets used to going.
I took Klaralund to work with me but was too busy running errands at lunch to knit. I'm really thinking this weekend will be perfect for this project.
I'm really psyched for this weekend. I'm hoping to meet lots of nice people, have fun, and make at least one square for Warm Up America.
I'm going to take pictures and I'll post them when I get back.
Hoping to meet some friendly knitters and crocheters!