Maybe next week
It's been a hectic week.
I'm thinking about making something purple when a few more WIP's and commitments are done.
One item waiting for me is a little shell. It's for summer wear, I guess, but it would still be okay under a business suit I think.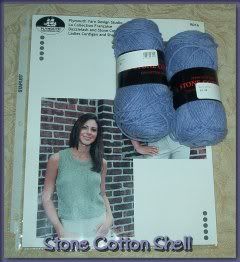 The yarn is sort of lavender. It looks more blue in this picture.
I'm not finding my 15 minutes but I guess that's because I'm still overwhelmed with other stuff. We've been short-handed at work so my 15 minute plan for walking and knitting during lunch has been postponed until next week.
I"m going to the Ebony Fashion Fair Fashion Show tonight, so I may not be able to get any knitting done at all. My guess, from a few pictures I've seen, is there will be some knitted garments in the show. If so, I'll try to see who makes/made them and I'll look for links to pictures.
I'm looking forward to a nice evening. I need one.