A Start
I started the blanket for charity during my lunch break today.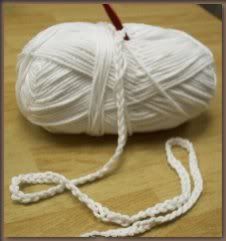 I ended up chaining way more than I needed because I was too busy talking.
I'm a lot more rusty at crocheting than I thought.
This could take a while. Probably a good thing I didn't wait any longer.
We'll see what happens.
The Klaralund sleeve is still awaiting repair of the dropped stitch. I'll get to that tomorrow. Tonight, I want to try to make this crocheted pattern work.