Happy Thanksgiving

I finished my son's hat for the
Men In Hats' KAL
last night. I was so excited when I finished it but was too tired to post.
He's too excited about the hat.
This is his still photo...

and this is the one where he's jumping up and down, as you can tell from the quality of the photo.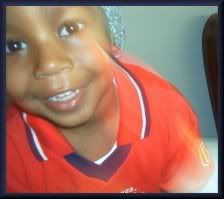 Nothing like a positive response to a handmade gift.
I'll be checking with hubby later to see if he wants a hat. If so, there will be another addition to the KAL.
We're gearing up to do our Thanksgiving rounds. Gotta visit the family on each sides. Hoping to get to do a little knitting or crocheting.
I've been truly blessed in lots of ways and today is such a good reminder.
Hope everyone has a Wonderfully Blessed Thanksgiving Day!