Mailing hats
The first hat was finally seamed.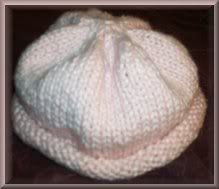 The second hat, almost finished, is also pink, but it's for a preemie.
I'll be washing both of them and mailing them out tomorrow. Hopefully they will arrive in time to be sent in the package for Special Needs Babies. I intend to do more to be mailed later but these need to go out NOW!
In other hat news, since I'm already set to knit the hat for my son, I'm joining the Men In Hats-Along. It starts Monday, November 22 and this is a KAL I'm sure I can handle.
One of these days I really will knit my DNA Scarf. Right now I'm just in hat mode and also into finishing up those projects that require seaming...and those that may be feeling abandoned.
With the pain and fatigue I'm experiencing, I'm not getting a lot of knitting or anything else done. I'm refusing to let this get me down but I am a little frustrated. The new medication isn't really helping, so now I've been referred to a specialist. I'm hoping this is a step toward feeling better.
I've made a little progress on my Klaralund sleeve. I took it to my Knitting Guild meeting for Show-And-Tell and got lots of wonderful compliments. I also took my Fair Isle Sweater, the one that's been waiting in the wings for months, to ask for advice. I could not believe the compliments I got on it. I got great advice, lots of encouragement, and they couldn't believe I was considering frogging to start over.
The DNA-Along will probably be long over when I actually get around to knitting the DNA Scarf but the finished scarves from it so far are lovely. Take a peek.
Another AMAZING THING, possibly just amazing to me, was a shawl/stole one of the members wore to our Guild Meeting. She had actually spun her dogs' hair and then knit a shawl/stole from the yarn. It looked like a fur stole. It was beautiful. I've heard of people knitting items from dog hair yarn but I had never seen it before. I don't think it's something I'll ever do but it was really gorgeous. I was sorry I didn't take my camera.
I stayed a little later after the meeting ended and spoke with two other members. One of them, K, pulled out her SNB Nation and we flipped through it. We discussed some of the projects and different knitting books. I really enjoyed that. We exchanged e-mail addy's so hopefully we'll keep in touch.
Local knitting buddies...I like the sound of that.