No Shopping Today
What a madhouse the mall was today. I drove out near the mall and immediately turned around to come home. It didn't look like an area I could handle. I'm planning to venture out to three stores tomorrow. Two of them should be okay to reach. The third one could be tough. I'd like to make it to a few more but I'm thinking that would be pressing my luck.
One place I will be visiting, because I haven't been in two months, is my LYS,
Knitting Sisters
.
I need to pick up two circular knitting needles in 40 inch length. I'm planning to try the Magic Loop again. I'm confident about it this time. Experience has made me more comfortable.
I also want to see the new yarns and books they've received and to say hello. Usually the visits are quite pleasant, so it's hard to not to smile just from the mere thought of going. I'm tempted to just dance.


My son wore his hat yesterday and today. He asked that I knit a scarf for him. Since he's appreciative of my knitting, how could I say no? I started the scarf Thanksgiving Day and I'm hoping to be done by Sunday.
Crazy as it sounds, I've never knit a scarf before. I don't wear scrarves very often and knitting them,
other than
the
DNA Scarf
and the
Multidirection Scarf
, did not seem appealing. Making one for my child, at his request, has been quite rewarding.
The hat has a K2P2 border, as does the scarf.
***Unfortunately, this yarn does not photograph well.
IE: I really need a new camera.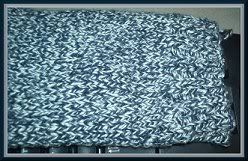 I didn't use a pattern for his hat and I'm not using one for his scarf. I've learned quite a bit by doing these projects on my own and knitting them has been great.
I asked Hubby if he would like for me to make him a hat. He said that he would, so I'll be continuing in the
Men In Hats' KAL
. Just have to pick out a yarn for him and decide if I'll use my own pattern that I make up or if I'll use one someone else designed.
I'm also hunting for yarn for an afghan for my mom. It needs to be washable and machine dryable as well. She wants it to be really soft, so the hunt has begun. I'm still trying to decide on a pattern but I'm thinking of going with an Aran design.
For tonight, however, I'll be knitting the scarf and contemplating patterns for Hubby's hat.