Marnie's Poll
I've been a fan of Marnie MacLean's patterns for quite some time. She recently started a blog which I thoroughly enjoy.
I don't know her personally but she seems very generous and like a friendly, pleasant person.
She has recently posted her new pattern for
Bella Paquita
, which, I may add, is gorgeous. Check it out and see what you think.
She posed a question and posted a
poll
as to whether designers who share free patterns are hurting designers who are trying to sell their patterns. It's at the bottom of the December 9th entry.
It's an interesting point to ponder.
While pondering this, I was also pondering my B&N Membership. I buy most of my knitting books from B&N, with Amazon, and Knitpicks trailing closely behind. I rarely get any offers from them in the mail and this year I did not even get the catalog that they send out at Christmas. I'm starting to wonder if it's worth it to be a member.
I was also a member at Waldenbooks and Books-A-Million. Their memberships cost a lot less and Waldenbooks used to give you something back each time you spent $100. Unfortunately, Waldenbooks recently discontinued the Preferred Reader Program.
I'm told B&N only sent out the Christmas catalog to random members. I must admit I was enraged.
When I add it all up, I think I probably do come out ahead, especially with online savings that B&N offers, but for some reason I just feel like there should be more incentives to become and to stay a member.
Maybe I'm just in a bad mood because I didn't get a lot of sleep for a few nights.
I could also be a little more annoyed because I haven't been able to do any knitting.
I'll be pulling out my son's sweater tonight to work on it.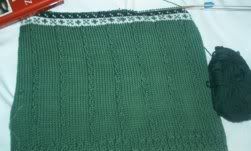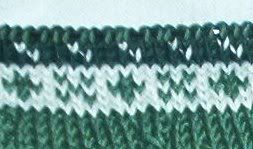 Must. Knit. Today. For. My. Personal. Sanity. And. The. Sanity. OF. Those. Around. Me.