It's National Craft Month and National Crochet Month
Since it's National Craft Month AND National Crochet Month, I'm going to try to make sure to celebrate. Maybe I need some rosewood or mahogany hooks.
I've frogged ripple afghan and the yarn is ready for me to start again. With a little strategizing on my part, I should be able to begin again this month.
I'm going to pull the yarn out for the Project Linus squares so it's ready for my knitting meeting tomorrow. We're doing 6" squares in pastels, which was the group's choice. I know I bought several skeins of acrylic pastel yarns when I decided to learn to knit before realizing I liked other materials better. This is the perfect opportunity to use this yarn.
As fruitful as February was, it was fruitful in other parts of my life, rather than crafting. Since good things did happen, and progress was made, I won't complain. Progress is progress.
I've been working like mad on our family reunion, so I'm hoping that after this week, I'll be able to put a little more time into other things. Of course as the reunion draws nearer there will be added responsibility. I'm hoping, however, to be able to balance the responsibilities in such a way as to include healthy diversions.
The healthy diversions I've planned are sleeping, exercising, knitting, crocheting, and reading. I'm still thinking about taking those dancing lessons too.
Choosing a Shawl Pattern
I purchased some yarn from
KnitPicks
at Christmastime. I got the
Alpca Cloud
in the color which I believe they call "Midnight." The color is dark but it has kind of a green cast or green flecks to it. The photo on the website showed more of a blue cast but I'm still pleased with the color.
This is a shot of yarn.

This shot shows about what the color of the flecks/cast is like.
I'm trying to decide which shawl pattern to use. I'm not sure if I'll make one up myself or if I'll try a tried-and-true pattern first. I'm also not sure if a dark yarn like this was a wise choice for my first lace project but I'm planning to throw caution to the wind, whenever I pick a stitch pattern to adapt into a shawl or a published pattern to follow.
I chose the Alpaca yarn because the wool yarns I've acquired make my fingers itch. Alpaca and wool are similar but some people have good luck using alpaca. I'm hoping I'm one of those people, although I do have plans to try some Zephyr, which is a wool/silk blend.
The Alpaca Cloud yarn is incredibly soft and so far, when I handle it, there's no itching of the fingers. Unlike
Natalie
, who received horrible service and an incomplete order, my experience with KnitPicks has always been wonderful. I'm hoping KnitPicks will straighten everything out for her. I guess even good companies have bad days, glitches in their system, and are subject to human error. Natalie has been so nice to others wanting to learn to knit, hosts a page with a list of all the 2005 KAL's, so I really hate that she had such a bad experience. I wouldn't want anyone to endure bad service but for whatever reason, it bothers me more that it happens to someone who seems so generous.
The Sock Progress Photo...from last week
With encouraging words from
Lu
, I decided to post the photo of the sock before pickup the stitches. I get the feeling something is terribly wrong as the heel seems quite long. We shall see...once I get back to the poor thing.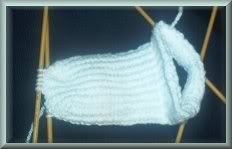 Just for fun
Recently a friend decided at the last minute to throw a party for her daughter who was turning two. Since my son and the little girl adore each other, there was no way I was going to let him miss her party. The catch was, the party was in two days, and it was a COSTUME party.
After calling around everywhere, I found three costume shops that sold costumes for small children. Hubby took the list and came home with a cowboy outfit. There were no hats to be found, at least not that would fit my child. There is one I could have crocheted
here
but I didn't find the pattern until it was too late to make it. He went hatless but did have a Sheriff's Badge!
The camera batteries, unfortunately were low, so I didn't get good pictures.
Here he is looking down at his pants to see if they are straight...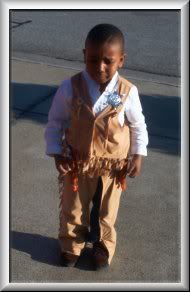 and another of him at the party trying to make sure citizens/party-goers are upholding the law.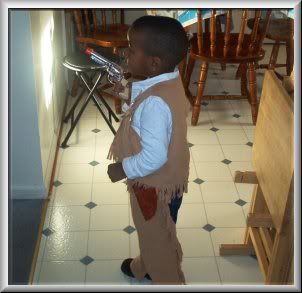 When the party was over, Dad picked him up and they went out together so I could have a few quiet moments to knit, sleep, or work on something in the house. Guess what I did. :)