My Way, Someday
Eight Was Great
I went to my knitting group this week. There were eight of us, nine if you include the Guide Dog that one of the attendees brought with her. Then, one had to leave early, so again, there were eight.
When I grabbed the yarn to take to the meeting, I didn't pay attention to the weight of it, only the color and that it was acrylic, as the group requested. Unfortunately, squares were supposed to be knit with worsted weight yarn. I took sport weight. So, I started a hat instead.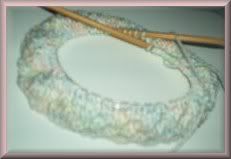 The hat may end up being donated to a local hospital rather than Project Linus but I was told that Project Linus does take hats.
One attendee brought back her Lopi sweater. At the previous meeting, there was minimal finishing she needed to do. When she brought it to the meeting this week, it was completely finished. Since this was charity week, not many other finished projects were brought in except booties, hats, and squares for blankets.
While at Barnes and Noble for the meeting, I ordered tea and something from the bakery, as I always do. I usually buy the same flavor of tea and also have a canister of it at home. This time I purchased a small canister of I flavor I had not yet tried, Hot Cinnamon Sunset (Harney and Sons). I thought it would be a nice treat during a stressful or trying moment and there's another young lady at work who also loves teas.
I was very pleasantly surprised. It was so good. At the next meeting, I think I'll try another flavor. I wish the B&N carried more of the flavors at the store but the location where we hold our meetings only carries a few. If you like tea, a list of all the flavors is found on the Harney and Sons
website
.
Unexpected
My Rowan 37 finally arrived yesterday. I had decided on Thursday that everyone else except me seemed to be receiving their books, so mine must have been lost or something had gone wrong with my membership.
There were no offers enclosed, nothing indicating this was my last magazine, no offers or requests for renewal. I found that disappointing. Do they want my business?
The plan is to take it to work one day next week to look at it on my lunch break. Until then, I just don't think I'll have the time to really look at it without being interrupted. Of course, I'll be leaving the building during my lunch break the day I peruse this magazine because interruptions during lunch at work are inevitable. For this reason, I sometimes skip a lunch break altogether.
If the weather is warmer, I'm hoping to take my lunch breaks this week and use that time to knit, crochet, read, and/or listen to music. I may even eat.
Shawls
I've decided to try the Falling Leaves Shawl from Lavish Lace.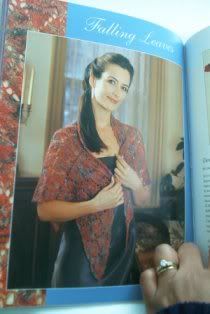 Since the yarn isn't dark, like the Alpaca Cloud I chose, I'm thinking it will be a better choice for a first lace project. Also, the yarn contains no wool, so it should be more agreeable to my hands. I want my first lace project to be a pleasant one, so I'm trying to factor in things conducive to a positive experience.
If only other aspects of life were as simple to decipher.
I think the next shawl, after I knit this one, will be one I do on my own. I'm feeling a little better about choosing elements I like, now I'm just getting a little more comfortable with techniques and construction.
I'm looking forward to feeling completely comfortable with designing my own items. I have no plans to design for the masses, so designing for me is an experience where I can use educated decision making and experience with a little trial and error. I'm liking the idea more and more every day.