Purging and Planning
Purging
It has become very clear to me that it is indeed time to purge. I've donated a few items to a local charity and given a few items to a neighbor. However, a major expulsion is needed.
This weekend, in between Christmas shopping, decorating, and normal household chores, I will be packaging items to be removed from our home. I have so many items of my son's that I had been saving that just need to go. There's no room for them and a child somewhere could use them. My intention is to donate or give away whatever I can bear to let go, in an attempt to achieve more order, more space, and to be a charitable citizen.
Among the things I'm debating about purging are these lovely skeins of Silk Garden.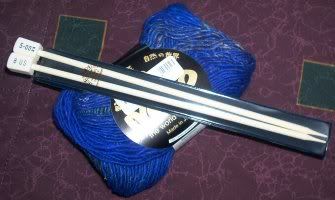 I hate Silk Garden. I love the way it stripes but I really don't like the yarn at all. Originally, the yarn was planned for knitting Klaralund. I purchased a lone skein to test it to see if it bothered my hands. Because it was so pretty, I kept trying to convince myself that I really liked this yarn. The truth is, I never want to knit with it again.
Somewhere, there is the beginning of a Klaralund sleeve. I'm debating about frogging it to knit another hat, as I do think the hat I knit with SG came out nicely. It was my first dpn project.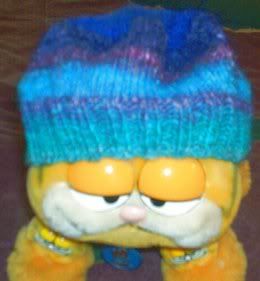 Now I must decided whether to sell the remaining skeins, swap them, or figure out something I'm willing to make with them.
Planning
In the planning department, I've gotten this urge to knit a few of the mini sweaters. I thought it might even be nice to hang a few on my tree. I played with the idea of making one for a few people in my office. Most appealing to me is the cabled
pattern
I found at A Good Yarn. It appears to only take a small amount of yarn and looks like it could be a fun project. Now I just have to find/make the itty bitty hangers.
I still need to finish the last few rows and weave-in the ends on my son's blanket. He's ready to put the blanket to good use, so I need to just pick a day and get it done. I'm thinking Monday will be the day.
Christmas shopping is looking better. I've made the list of all persons for whom I'm purchasing/making gift. On the list, beside each person's name is a block for gift possibilities, stores to find the item, one for marking when the present has been purchased, on for when it's wrapped, and one for when it's shipped/delivered. With that done, I'm still probably going to be wrapping gifts on Christmas Eve.
I'm still planning on baking with my son most of the day on Christmas Eve, so I really have to plan the days ahead carefully. On Christmas Day, I'm hoping to watch my son and other family members open presents, then knit happily in any spare moments.
Right now, I think I'll try to knit those last few rows of the blanket. I'm feeling a little overwhelmed and I think it will help me feel better.
After or possibly during the knitting, I'll fall asleep. It's been that kind of week.