The Blankets and the Socks
Chez Kimberly has quieted down a bit now that Thanksgiving has passed. As thankful as I am for family, I am also thankful for peace, quiet, and privacy.
I have not been able to get my friend's situation (Hodgkins) off of my mind. I have placed a call to his brother to find out if he thinks a Healthful/Hopeful Throw would be well received or if my friend would rather have something else. I have not been able to catch up with him, which concerns me, so I have left a message.
If I get the green light for this project, the blanket will be made up of 8x8 squares. Although the final color decision is dependent upon an answer from either my friend's brother or mother, I'm thinking that navy blue will be one of the colors used.
I have had some volunteers from online to contact me about making squares. You don't know how much I appreciate this. As soon as I have some real information, I will post it or contact you!
The few locals that I have contacted have agreed to make squares and I'm a little hesitant to contact too many more until I know the blanket is "approved."

The other blanket, of course, is the blanket for my husband. I have estimated that if I knit four rows each day it will be finished in time for the requested date. With each row consisting of just a few stitches less than 300, it is taking me longer to knit than I anticipated. Fortunately, the cabling process has become more smooth for me and those rows are taking about half the time they were when I first started knitting the project.
The blanket is now slightly over 20 inches in length and slightly over 60 inches in width.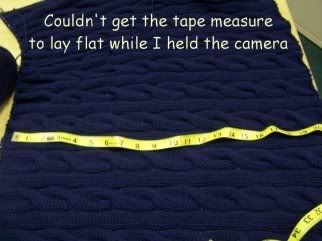 I finally decided I'll be knitting the Honey of a Hurricane socks. Had it not been for my crazy life, I would have cast-on for them already.
I had planned to try the figure-eight cast-on but now I'm tossing around the idea of using the
Magic Cast-On
. Hopefully there will be pictures of a started sock, or at least tales of an attempt tomorrow.