Busy, Busy, Busy
I was unable to get a good picture since I was in a hurry but the Cascade Fixation Tank is finished. As a present to myself on Mother's Day, I wore it to church, under my suit coat.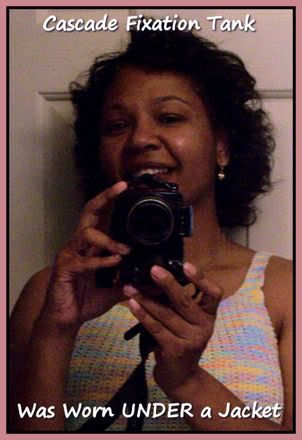 I'll try to post a better photo another day when I have someone to take a good photo or when there is more natural light available.
Meanwhile...
I ripped the Hurricane Sock beginnings and restarted...about ten or more times. I finally have something workable.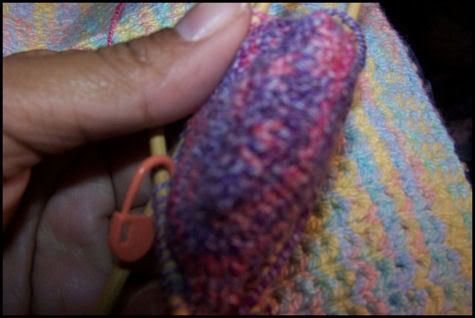 If I can find some time in this crazy life of mine to actually accomplish some knitting, I'll soon have a progress shot worth seeing.
Just for Fun
Taken from Natalie at Keeping Me In Stitches
Items in
bold
are those I've done.
Items in
Italic
are those I aspire to do.
Plain items are items I have not done and/or don't interest me.
Afghan
I-cord
Garter stitch
Knitting with metal wire
Shawl
Stockinette stitchSocks: top-down
Socks: toe-up
(actually working on this now)
Knitting with camel yarn
Mittens: Cuff-up
Mittens: Tip-down
Hat
Knitting with silk
Moebius band knitting
Participating in a KAL
Sweater
Drop stitch patterns
Knitting with recycled/secondhand yarn
Slip stitch patterns
Knitting with bananafiber yarn
Domino knitting (=modular knitting)
Twisted stitch patterns
Knitting with bamboo yarn
Two end knitting
Charity knitting
Knitting with soy yarn
Cardigan
Toy/doll clothingKnitting with circular needles
Baby items
Knitting with your own handspun yarn
Slippers
Graffitti knitting (knitting items on, or to be left on the street)
Continental knitting
Designing knitted garments
Cable stitch patterns (incl. Aran)
Lace patterns
Publishing a knitting book
Scarf
Teaching a child to knit
American/English knitting (as opposed to continental)
Knitting to make money
Button holes
Knitting with alpaca
Fair Isle knitting
Norwegian knitting
Dying with plant colours
Knitting items for a wedding
Household items (dishcloths, washcloths, tea cosies…)
Knitting socks (or other small tubular items) on two circulars
Olympic knitting
Knitting with someone elses handspun yarnKnitting with dpns
Holiday related knitting
Teaching a male how to knit
Bobbles
Knitting for a living
Knitting with cotton
Knitting smocking
Dyeing yarn
Steeks
Knitting art
Knitting two socks (or other small tubular items) on two circulars simultaneously
Fulling/felting
Knitting with wool
Textured knitting
Kitchener BO
Purses/bags
Knitting with beadsSwatching
Long Tail CO
Entrelac Knitting and purling backwards
Machine knitting
Knitting with selfpatterning/selfstriping/variegating yarn
Stuffed toys
Knitting with cashmere
Darning
Jewelry
Knitting with synthetic yarnWriting a pattern
GlovesIntarsia
Knitting with linen
Knitting for preemies
Tubular CO
Freeform knitting
Short rows
Cuffs/fingerless mitts/armwarmers
Pillows
Knitting a pattern from an online knitting magazineRug
Knitting on a loom
Thrummed knitting
Knitting a gift
Knitting for pets
Shrug/bolero/poncho
Knitting with dog/cat hair
Hair accessories
Knitting in public