It's a beanie!
I finished the beanie! My first beanie, my first project on dpn's, and I'm proud!
It's really small, as I knit it trying to make sure I would not run out of yarn. LOL
It like a little skull cap, doesn't cover the ears, just the head, but Silk Garden made it so very pretty. Actually, it does cover Garfield's ears.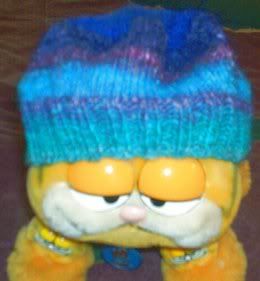 Now, I'll be concentrating on finishing the rug.
Still no Rowan 36, still no New Member Packet.