Silk Garden, from my point of view, and DPN's
I had an appointment at the hair salon today. That means horrid waiting time so I always take along a knitting project. Rather than work on my WIP's or UFO's, I started the Silk Garden Hat. You knew I would didn't you?
Before I left, I decided I'd like to try to wind the yarn into a center-pull ball. Apparently I didn't watch the Knitting Workshop Video very closely because the center-pull wasn't operational. I discovered this long before I had rolled the entire skein, so I just unwound the ball and rewound it around the yarn remaining in the original skein. Not a pretty sight it's still functional.
The yarn made my fingers itch, not a good sign. Determined to make the hat anyway, I put the yarn away until I got to the salon.
Knitting with Silk Garden wasn't as bad as winding it into a ball. I had already removed some odd matter so areas that were extremely scratchy are now simply scratchy. The yarn definitely has thick areas and thin areas, which was a new experience for me. I am, however, thrilled with the way the colors change within the skein. This is my first experience with hand-dyed yarn but not my last.
I used the pattern from
And She Knits Too
because I wanted to try to finally learn double pointed needles and because the style just appealed to me more.
To tackle the dpn's I did a lot of research on the internet but finally found real help at
Knitty
. Theresa Vinson Stenersen and Knitty, please consider this my heart-felt, public, and formal thank you! The instructions were very clear!
I'm feeling pretty comfortable with dpn's now. That's a good feeling.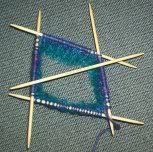 In terms of working with dpn's again, I know that I will, especially for socks, but I think I'd rather use circulars whenever possible. With dpn's, there's just so much potential for disaster.
Here's a shot of the lovely yarn I am using, in decent but not great light, before I opened the skein. My son picked out the colorway. I let him choose it for me. He's so proud!
Will my Klaralund be knit from Silk Garden? Well, I'm not sure, but I'd hate to disappoint my only child.