Ties to wear and ties in life
I decided to knit the tie from FCEK. It's pattern 32 but I can't remember what page. I finally showed the tie to hubby today so I would know if the tie would be for him or for me. Since he said he liked it, it will in fact be for him.
I knit a few rows on it today and was pleased at the rate of progress. I decided to knit a few more rows this evening to try to unwind. Unpon closer inspection, I noticed a recent error in my pattern repeats. This had to have happened this evening but the crazy thing is I thought I was really paying attention. I'll be yanking that out to reknit. (Picture of tie at end of this entry.)
I discovered something else. The pattern tells you to knit the pattern for a certain number inches then you do decreasing. HOWEVER, it does not tell you how many stitches to decrease or the stitch pattern. I'm going to consult the website for corrections. I have no idea why I did not notice this the first time I read it.
I also looked at the picture of the tie again and my points sit in the same place as the picture and, according to the picture, are aligned properly. That's a good feeling.
I'm still waiting before I swatch for Klaralund. I'm not sure about swatching with it since I found the yarn consistency to vary quite a bit throughout the skein. I'm guessing I'm going to have to just measure frequently during the knitting process to see how the gauge is overall.
I still can't believe summer is almost over and I did not knit a sleevless top. That was one of my goals. I suppose I could still knit one and wear it under my suit jackets during the winter. Besides, my shoulders and triceps are not quite in a state that I want people to see. Maybe not knitting the tanks yet was smart.
In crochet news, I picked up the Interweaves' Crochet magazine today. I haven't had a chance to look at it. I'm wondering what cute little patterns await but I"m saving this magazine to peruse tomorrow during my lunch break.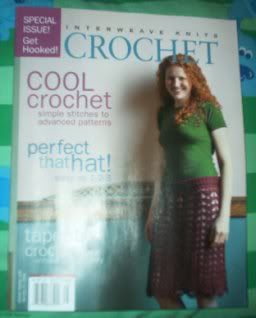 I still have not picked out the baby blanket to crochet, nor have I checked my yarn stash to make sure there is sufficient machine washable yarn for a baby blanket. I must take care of this.
I found out today that there's an S&B group in Williamsburg. I may try to make it to a meeting some time. I'm still toying with the idea of starting my own group. It won't be an S&B, since I won't say the "b" word (don't laugh) but I also would like to be in a group that's inclusive of crocheters. Who knows? Maybe the one in Williamsburg is. Guess I won't know until I go to a meeting or ask.
Still trying to carve out my plans for the
Knit-Out & Crochet Too
in DC. I'm hoping it will be a good experience because I really need a few perks right now. Also still debating about when to start squares to take with me for the Warm America blankets.
Thinking of making my dad a fishing hat by Elizabeth Zimmermann. Promised my mom an afghan, so I pulled a book of patterns for her to consider.
Life is still a roller coaster ride. I believe my new part-time job
officially
starts tomorrow. Got to call to verify everything is set up on their end. The people in the office have been so very welcoming. Hoping I learn everything quickly and my health will not fail me.
Just wish I had a little more peace, less pain, less pressure.
Picture of tie, with mistakes, added to end because it's a long picture.