Three Babies / I Want a New Digital Camera
I mailed the three hats out today. That made me feel really good. Three babies will have hats that were knitted with love. They may not be the best looking hats in the world but I sent my warm wishes and prayers with the hats. Hopefully, they can be used.
Here they are before being enclosed in the mailing envelope.
***Warning, pictures are horrid.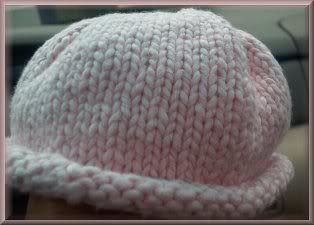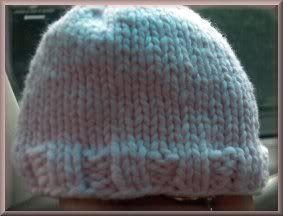 It took me at least twenty shots to get pictures of all three of them. The camera kept rejecting the picture. I'd press the button. It would say "Focusing." Then it would just stop focusing or even attempting to acquire a shot. This is not the first time it has happened. Of course, these multiple presses of the shutter button teamed with focusing drains the life out of the batteries. The pictures are also horribly dark. I also had to hold the hats at strange angles to get the camera to take a picture so the hats look lumpy. Guess what I want for Christmas.

I've cast-on for my Men in Hats beanie. I'm making a hat for my son. In case you wonder if he is even interested in what yarn I use or my knitting, he snuggled up with the skein and his Nerf football while on the way to Grandma's house.
Later, he snuggles up even closer to the skein...
...until finally he was only holding the skein and has released the football.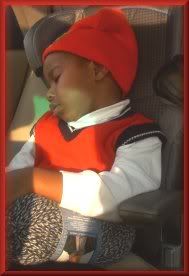 He'll get lots of wear out of this hat.